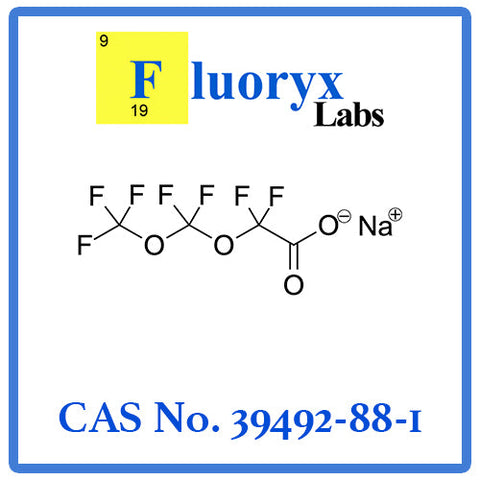 Sodium Heptafluoro-2,4-Dioxaohexan-6-oate | Catalog No: FC23-PFO2HXA | CAS No: 39492-88-1
---
| Unit | SKU | Price | Stock | Quantity |
| --- | --- | --- | --- | --- |
| 0.1g | FC23-PFO2HXA-001 | $341.00 | In Stock | |
| 1g | FC23-PFO2HXA-01 | $3,300.00 | In Stock | |
---
Product Description
Chemical's Name: Sodium Heptafluoro-2,4-Dioxaohexan-6-oate
Catalog No.
: 

FC23-PFO2HxA

Common Name
: 

PFO2HxA, sodium salt

CAS No.
: 

39492-88-1

Purity
:  98.6%
Physical Properties

| | |
| --- | --- |
| Melting Point | :  Decomposes |
| Boiling Point | :  Decomposes |
| Flash Point | :  Not flammable |
| Ref. Index | :  No data available |
| Density (g/mL) | :  No data available |
| Hazard | :  None known |
Note:
You can change the order quantity in the shopping cart.
If you order more than one hazmat item, you only need to add Hazmat Shipping Surcharge once.
You DO NOT have to have PayPal account to pay with credit card
SDS
CLICK HERE to download the Safety Data Sheet (SDS) in PDF format for this chemical.
---
We Also Recommend