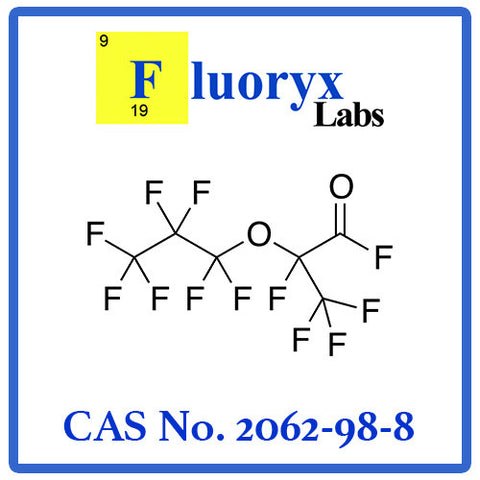 2-(Heptafluoropropoxy) tetrafluoropropionyl fluoride | Catalog No: FC27-12 | CAS No: 2062-98-8
---
Weigh
SKU
Price
Stock
Quantity
Hazmat Shipping Surcharge (domestic air) *
Hazmat Shipping Surcharge (international air) *
---
Product Description
Chemical's Name:   2-(Heptafluoropropoxy)tetrafluoropropionyl fluoride
| | |
| --- | --- |
| Catalog No. | :  FC27-12 |
| Common Name | :  2-(Heptafluoropropoxy)tetrafluoropropionyl fluoride |
| CAS No. | :  2062-98-8 |
| Purity | :  > 98% |
Physical Properties 

| | |
| --- | --- |
| Melting Point | :  NA |
| Boiling Point | :  54-56 °C @ 760 mm Hg |
| Flash Point | :  None |
| Ref. Index | :  1.3 @ 25°C |
| Density (g/mL) | :  1.61 @ 25°C |
| Hazard | :  Corrosive, Moisture sensitive |
Due to its hazard classification, there is an additional surcharge for shipment of this item if shipped via air: $132 for domestic air and $185 for international air. In addition, all dangerous goods shipped by air must use Priority Overnight service. Please add Hazmat Shipping surcharge to your cart if you order item other than 25g size and need your order to be shipped via air.
Note:
You can change the order quantity in the shopping cart.

You DO NOT have to have PayPal account to pay with credit card

If you order more than one hazmat item, you only need to add Hazmat Shipping Surcharge once.
SDS
CLICK HERE to download the Safety Data Sheet (SDS) in PDF format for this chemical.